Certified Data Center (By EPI)
EPI: Data Center
EPI, is a European-origin, global data centre specialist company with 30 years of experience, operating world-wide in over 60 countries and 130 cities through direct operations and a large partner network. EPI offers an extensive range of data centre expert services which include accredited data centre and IT training, audit and certification, and the DCOS® – Data Centre Operations Standard. EPI is the world's largest provider of accredited data centre training and ANSI/TIA-942 conformity audit and certification services.
Data Centre design, management, operations and compliance to standards play an important role in many organizations. Minimizing, or avoiding downtime and improving efficiency are top priorities and hence being able to rely on educated staff becomes a key factor for data centre managers all over the world.
Why don't you start learning how to manage Data center as a professional today?

The framework has a foundation training and 4 tracks:
Foundation

Design / Build

Operations / Governance

Standards / Compliance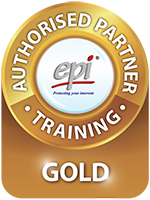 Gold Authorized Partner: Network Training Center Co., Ltd. (NTC)
Promotion please call +66 (0) 2634-7993-4 #11-18 | sales@trainingcenter.co.th | www.trainingcenter.co.th